Sione Tuipulotu insisted he will cast aside any emotional attachment to Tonga as he bids to help Scotland get their World Cup campaign off the ground in Nice on Sunday.
The Australia-born centre's father Fohe is Tongan and the 26-year-old admits he has a "lot of love" for a nation that represents part of his heritage.
However, Tuipulotu is hell-bent on ensuring the Scots put the Pacific islanders to the sword as they look to keep alive their hopes of progressing to the quarter-finals.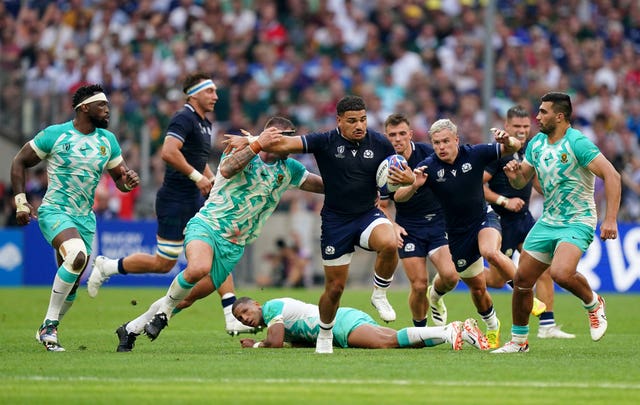 "It's probably a tricky one," he smiled when asked on Saturday about how he feels going up against his dad's country. "No matter how much you try not to think about it, it's always kind of there in the back of your mind.
"But I'm fully focused on getting the victory for Scotland tomorrow. I'm sure it'll be emotional during the anthems and stuff.
"Of course, I've got a lot of love for Tonga, and that side of my heritage. But tomorrow I'm fully focused on doing my best to get a win for Scotland, and get our World Cup back on the road."
Fohe will be watching on television from Australia as his son bids to get the better of his home country at the biggest tournament in rugby.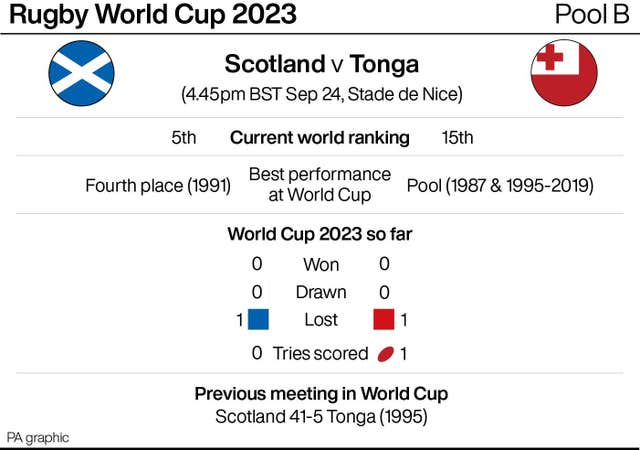 "My dad's with my little brother at home, he can't leave him by himself," said Tuipulotu. "Mum's over here. But my Dad will wake up and watch it, so I'll wait for his message after the game.
"I know he's got both (Scotland and Tonga) jerseys in the house. I'll have to ask my little brother which one he's got on (on Sunday). I'm sure he'll be going for (supporting) us though."
Tuipulotu was overwhelmed with emotion when he spoke a fortnight ago about his mother Angelina travelling from Australia to watch him play for Scotland for the first time against South Africa in Marseille.
He explained on the eve of the Tonga game how she helped lift his spirits after the 18-3 defeat by the Boks.
"It was actually quite good because my mum doesn't know anything about rugby so she thought we all played really well," he laughed.
"I kind of knew we didn't but when I saw her after the game and she said 'Oh, you guys all played so well', it was refreshing and picked me up for that 20 minutes but then I was back to ground zero when we got on the bus.
"It was nice to see my mum after that. That's the best thing about mums, they pick you up when you are feeling down.
"To be honest, I was really disappointed after the South Africa game. It took me a couple of days, probably took me a week to get over.
"But we're over that now. We've done our reviews and we're fully focused now on getting back into Tonga. It's the perfect game for us to try and enforce our game on to them."
The Scots must win all three of their remaining matches if they are to have a chance of qualifying for the knockout phase, but Tuipulotu is adamant there is no additional pressure on the players as a result of having no margin for error.
"I think all the games just kind of pose their own bits of pressure," he said. "It's a World Cup, every game poses that bit of pressure.
"There are no easy games in the World Cup, so this game's the same for us as it was for South Africa.
"We've prepared the same as we did for South Africa and we're all hoping we can put out a better performance."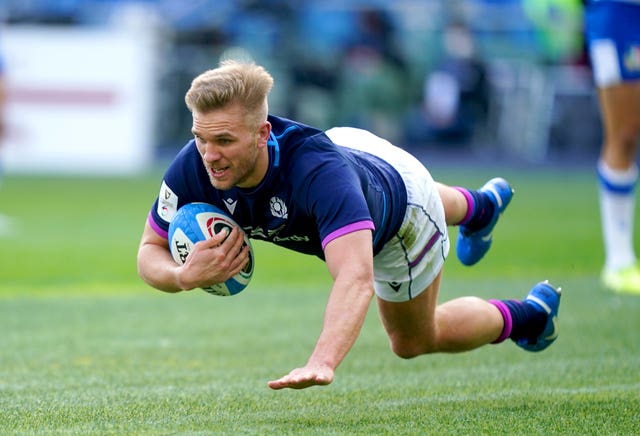 Tuipulotu has forged a formidable centre pairing with club-mate Huw Jones for both Scotland and Glasgow. Their partnership will be broken up this weekend, however, as Jones drops to the bench and Gloucester's Chris Harris takes over the number 13 jersey.
"I've played a lot of rugby with Chris," said Tuipulotu. "In the early days when I was getting my first couple of caps for Scotland I was playing under his wing, and I've learned a lot from Chris both sides of the ball, but particularly defensively.
"When I first came to Scotland, I was a bit of a rogue defender but I learned a lot from Chris.
"He's always put his arm around me and helped me, and I feel very comfortable with him alongside me. We're going to out there and have a great performance together."