Joe Marler has invoked England's 2003 World Cup heroes in his belief that winning ugly is to be applauded if it results in success.
England have taken a stranglehold on Pool D after delivering comprehensive victories over Argentina and Japan but, for different reasons, neither performance has set the tournament alight.
Against the Brave Blossoms in Nice on Sunday they kicked for 1,175 metres, putting boot to ball 42 times, and while they secured the bonus point in humid conditions that made handling treacherous, the kick-first approach drew boos.
Yet Marler recalls that two decades ago Martin Johnson's England resorted to conservative tactics to lift the Webb Ellis Cup, including winning the final against Australia through a Jonny Wilkinson drop-goal.
"Finesse – why do you have to finesse it? You've just got to win, haven't you? What did England do 20 years ago? Find a way to win in the World Cup," the Harlequins prop said.
"A lot of people talk about style of play. In 2003 they went a couple of phases, Jonny slotted some penalties and some drop-goals.
"They won ugly, a lot of that tournament they won ugly but we don't talk about that now do we? We talk about them winning the World Cup. You forget about how you did it.
"You don't talk about South Africa getting pumped in the first game against New Zealand in 2019, you talk about them pumping us in the final and then lifting the trophy.
"We'll keep trying and taking the lessons from each game and we'll keep trying to finesse. But ultimately it's about the win. We're not getting ahead of ourselves at all."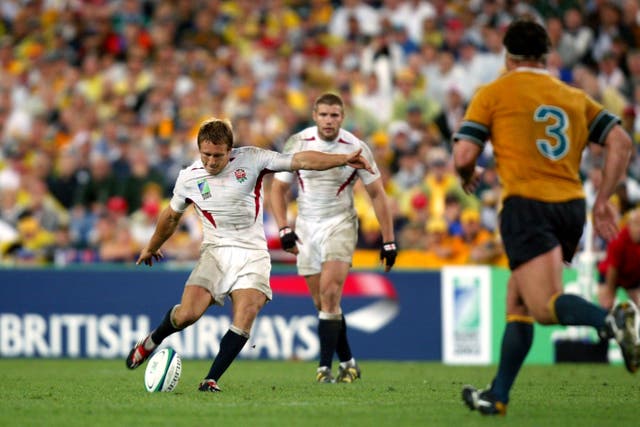 Marler played a comical role in the 57th-minute try that swung the game away from Japan, with the ball bouncing off his head and over the line for Courtney Lawes to touch down.
The Sussex native joked that he was influenced by Brighton's 3-1 victory at Manchester United 24 hours earlier.
"Well it's just what I've been practising for – these moments. I've been practising with Dan Cole and Jamie George in activation," Marler said.
"I took great inspiration from Roberto De Zerbi's mighty Seagulls doing a demolition job on United, which is my son's team.
"Four Premier League wins in a row over Manchester United. Only three teams in Premier League history have done that – Brighton, Man City, Liverpool.
"But we've won nothing yet, which is quite apt because it brings it back to us (England) having won nothing yet.
"We've had two good victories, won in different circumstances, and we're on to the next one."
England fans turned on the players in the third quarter when Alex Mitchell kicked the ball dead and the groans persisted until the kitchen sink was thrown at Japan in the final half hour.
"We're here to win games, that's our job. We're here to win Test matches. We want to make every fan and every English fan proud," man of the match George Ford said.
"We understand the sacrifice and commitment they make to come and support us and we value that so highly.
"But we want to be a winning team and we want them to be proud of a winning team as well."