Police hunting for escaped terror suspect Daniel Khalife have been searching a London park overnight just a few miles from the prison he absconded from.
The Metropolitan Police confirmed officers had been in Richmond Park although the force has refused to rule out that Khalife may have left the country, or that he had outside help to escape prison.
The park is just over four miles away from HMP Wandsworth, where the former soldier, who is reportedly accused of gathering information for Iran, went missing from in his cook's uniform on Wednesday.
Strapping was found on the underside of a Bidfood delivery vehicle which police stopped just over an hour after it left the prison, with officers suggesting Khalife held on to the underside of the lorry to escape.
His disappearance has prompted questions over staffing levels at HMP Wandsworth and why he was being held in a Category B prison.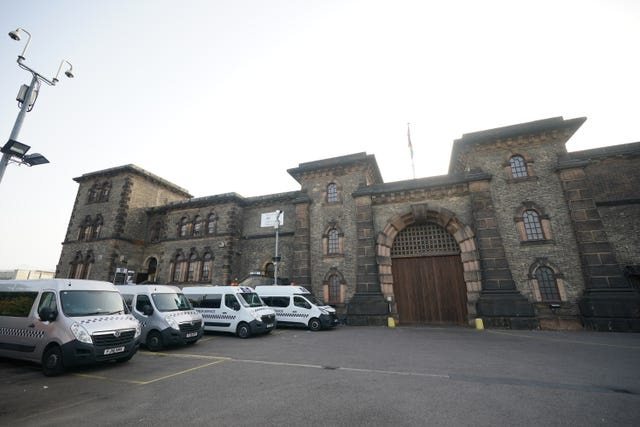 The Metropolitan Police's counter-terrorism commander said it is "testament to the ingenuity" of the 21-year-old that there have been no confirmed sightings since he escaped prison.
Dominic Murphy said he was keeping an "open mind" as to whether Khalife had received support from somebody to escape prison and whether he had managed to leave the country.
He said more than 150 investigators and police staff from counter terrorism command working in London on investigation and officers had received more than 50 calls from the public which had provided "some really valuable lines of inquiry".
In a press briefing on Thursday, Mr Murphy said: "This was a really busy area of London and we've had no confirmed sightings in any of that information, which is a little unusual, and perhaps testament to Daniel Khalife's ingenuity in his escape and some of his movements after his escape.
"He was a trained soldier – so ultimately he has skills that perhaps some sections of the public don't have.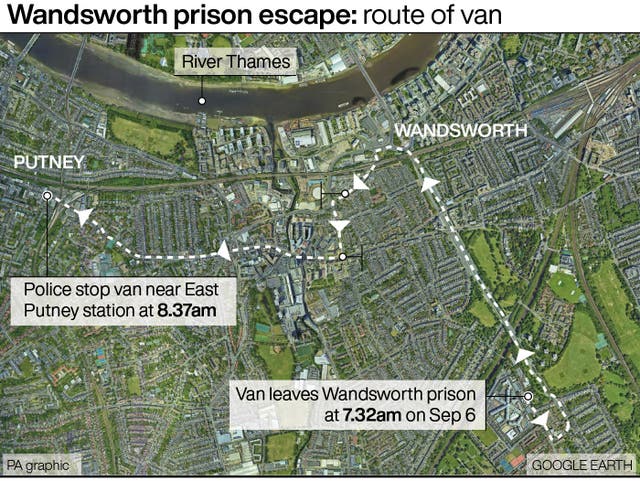 "He's a very resourceful individual, clearly, and our experience of him shows that, so nothing is off the table with him at the moment."
The lorry Khalife is believed to have strapped himself to left HMP Wandsworth at 7.32am on Wednesday. He was declared missing at 7.50am.
Police were notified at 8.15am and the lorry was stopped on Upper Richmond Road, near to the junction of Carlton Drive, at 8.37am.
CCTV footage later emerged of the van driving along a road in London after it had left the prison.
The Justice Secretary confirmed an independent investigation will take place following Khalife's escape.
Alex Chalk told MPs two urgent reviews would also take place regarding the categorisation and placement of all HMP Wandsworth prisoners and all those in custody charged with terrorism offences.
Wandsworth prison's performance was rated a "serious concern" and watchdogs had issued a string of warnings about the jail in the past year before Khalife escaped.
Chief Inspector of Prisons Charlie Taylor told the PA news agency staff shortages are "the source of many problems" at the prison and later said that "in an ideal world" Wandsworth would be shut.
Mr Taylor told Politics Hub with Sophy Ridge on Sky News: "When you find a prison like Wandsworth, it really needs closing. Ultimately, it's not a suitable prison."
He added: "You need jails because you need to service the courts. We've actually got a crisis at the moment in prisons just in terms of population places.
"So there are only just enough prisons, places available, at the moment for the number of prisoners who are coming in."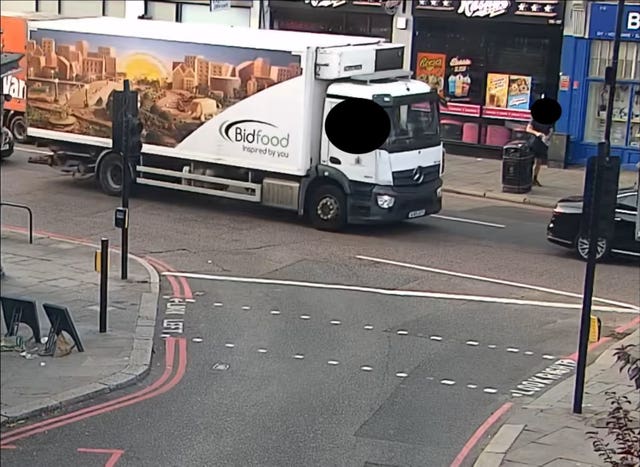 John Podmore, a former governor at HMP Brixton and HMP Belmarsh, told the BBC Radio 4's World At One he believed Khalife should have been held at maximum security Belmarsh, where terrorist prisoners and those accused of such offences are often detained, rather than Category B jail Wandsworth.
Mr Podmore said: "My view is that he should have been at Belmarsh.
"It's much more suited to the levels of security that someone like this – charged with, not convicted – needs. I can't understand why he wasn't at Belmarsh."
One former inmate at HMP Wandsworth, who worked alongside Khalife in the prison's kitchens, said the escapee had struck him as "odd" and had told him he was "going to be famous".
Chris Jones, 53, told BBC London: ""He did seem like an odd sausage. One lunchtime he came in saying that he was going be famous. I told him: 'I think you've got on the wrong bus, mate'."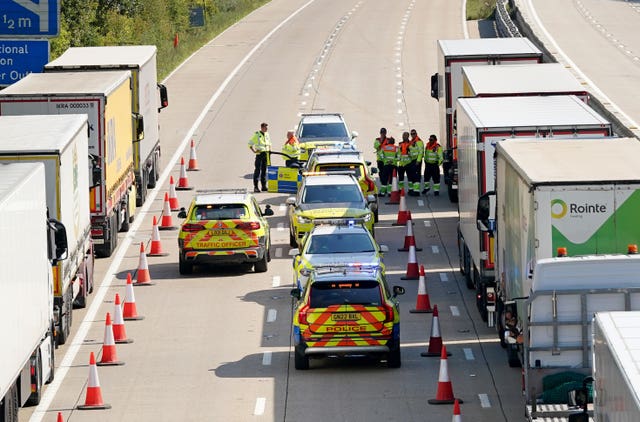 Mr Jones, who the BBC reported was released in June after being acquitted after seven months on remand, said he was "surprised but not surprised" by Khalife's escape.
He added: "We always used to joke about that lorry; jump in it and drive off, but there was a lot of security staff around the kitchens so it is a surprise he got through there."
Khalife, who was awaiting trial after allegedly planting a fake bomb at an RAF base and gathering information that might be useful to terrorists or enemies of the UK, was discharged from the Army in May 2023.
He has denied the three charges against him.
He was last seen wearing a white T-shirt, red and white chequered trousers and brown, steel toe-cap boots, the Metropolitan Police said. He is described as slim and 6ft 2in, with short brown hair.
Kent Police said junctions eight and nine of the M20 were temporarily shut on Thursday due to the enhanced security checks – and to allow freight heading for mainland Europe to queue on the empty section of the motorway.
Mr Murphy previously said there was "no reason to believe Khalife poses a threat to the wider public" but urged people not to approach him and to call 999 if they spotted him.
Khalife has links to the West Midlands and Kingston in London, but Mr Murphy said the hunt was covering the whole of the UK.
He was previously stationed at the Ministry of Defence's Beacon Barracks in Stafford.
A man was stopped by police at Banbury train station in Oxfordshire on Thursday but Scotland Yard said it was not Khalife.