Instances of anti-Muslim hate have more than doubled in a decade, according to a monitoring group which said it has produced one of the most detailed studies of such attacks in the UK.
Tell Mama, which monitors and works to tackle anti-Muslim sentiment and abuse, said verified cases of anti-Muslim hate had increased annually from 584 in 2012 to 1,212 cases in 2021.
It said that while this might be partly down to Tell Mama becoming a more recognisable organisation to make reports to and to more people feeling they can report such hate and bigotry, "it may also indicate that greater numbers of cases of anti-Muslim hate are taking place".
Since 2012, Tell Mama said it has helped and supported more than 16,000 cases of reported anti-Muslim hatred and bigotry, with over 20,000 people making reports.
Online hate climbed to a high in 2020, the organisation said, suggesting "the pandemic accelerated" such abuse on the internet.
In the same year there was a "significant rise in neighbour-related disputes that turned anti-Muslim in nature", with the organisation recording more than a quarter of all street-based (offline) cases as falling into this category.
The organisation said lockdowns "acted as a bottleneck for household and neighbour-related cases".
In 2020 there were 1,318 online and offline verified cases combined, Tell Mama said.
The group said the highest frequency of verified offline cases took place between the years of 2016, 2017 and 2019, which it noted corresponded to "a cluster of terrorist attacks in the United Kingdom, the Christchurch terrorist attacks in New Zealand and to the Brexit referendum result".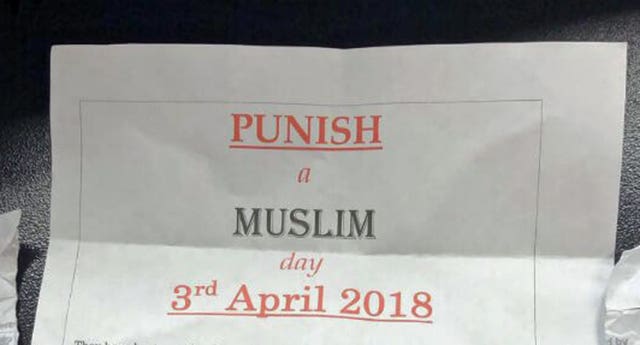 Tell Mama said the activities of the far right, anti-Muslim attacks globally, political discourse, the Brexit referendum result, the activities of so-called Islamic State and terrorism and extremism, grooming scandals and targeted anti-Muslim campaigns "have all led to spike points in anti-Muslim hate".
It cited the 2018 "Punish a Muslim" campaign "that raised alarm in parts of British Muslim communities", and said the Israel-Palestine conflict had "once again spilled over into reports with an increase of anti-Muslim cases" in 2021.
Other spikes came around the time of attacks against asylum seekers and centres supporting them, and when cricketer Azeem Rafiq highlighted racist abuse he suffered, Tell Mama said.
The group's director, Iman Atta, said: "We have produced one of the most detailed studies in the UK with actual case numbers and classifications of anti-Muslim hate cases covering a decade from 2012-2022. This is a decade worth of data from assisting, supporting and ensuring that British Muslims get access to justice.
"We hope that this data inspires others to focus on this area of work and to bring to the awareness of many that anti-Muslim hate needs to be peacefully challenged, monitored and countered wherever it manifests itself.
"If we are to ensure a society where social cohesion is strengthened, then tackling anti-Muslim hatred is an important area of work that needs our collective effort."