The Princess of Wales joked about needing to "pick up some tips" for stress management as she visited a child services group in Windsor.
Kate spoke to parents at a drop-in health visitors clinic and a baby massage session at the Windsor Family Hub on Tuesday morning.
She also joined a stress management course with mothers from the Punjabi community, and upon learning about the course said: "I'll come here and pick up some tips!"
The hub, run by not-for-profit organisation Achieving for Children, has provided children's services across Windsor, Maidenhead and the surrounding areas since 2021.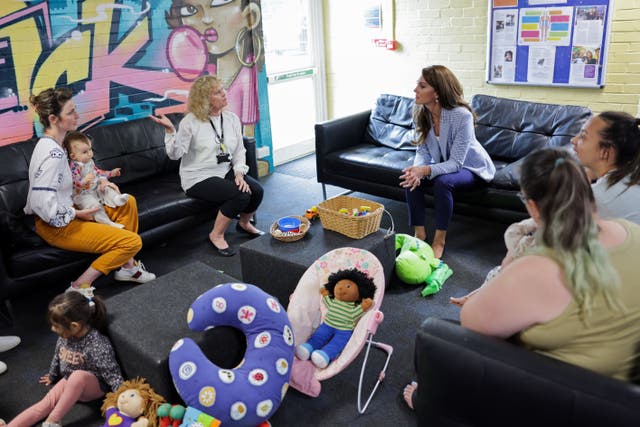 Kate first met mothers and babies who had gathered for their weekly health clinic, and joked with organisers about getting everyone together via WhatsApp.
She talked with the parents about their main concerns as mothers, including breastfeeding and sleep.
The princess then sat in on a baby massage session in the hub's sports hall, and discussed how the exercise can help parents to "bond with your babies".
Suppressed mental health concerns and cultural change were the key topics as Kate then talked to mothers on the stress management course, with the princess emphasising the need to "normalise our emotional world in a safe environment".
Kate then thanked staff and parents for their hard work and time, before heading off for a home visit in the local area.
The princess has a keen interest in the early childhood sector and previously launched the Shaping Us campaign with the Royal Foundation Centre for Early Childhood in January 2023 to highlight the importance of supporting young children and those caring for them.
Lin Ferguson, executive director of children's services and education for the Royal Borough of Windsor and Maidenhead, told the PA news agency: "It was absolutely amazing, because she (Kate) is really passionate about the work that she's been doing on Shaping Us, and she was really engaged.
"People were nervous but she really put people at ease, and she was genuinely interested."
The hub offers support on issues including exploitation, knife crime and substance abuse problems alongside basic parenting skills.
Ms Ferguson added: "It is a place for parents to come and talk about issues they might be having or get advice about parenting.
"It really is a one-stop shop, and I think for some of our families it is absolutely a lifeline."
Anaya Faisal, 40, from Maidenhead, who was attending the 10-week stress management course, said: "I still can't believe I was sitting next to her – it was a pleasure talking to her and sharing my experience."
Ms Faisal, who has three children, was diagnosed with breast cancer last year and said the course allowed her to "see life differently" after she and her family were suffering with depression.
She added: "I used to get emotional talking about myself and my experience, but I like telling other people what I've been through now."