A couple who lost their home when Hurricane Irma battered the British Virgin Islands have said the UK government is "trying" to help clear up and repair the devastation.
Dorothy Nibbs, 59, and her husband Alvin, 73, have been left without anywhere to live after the storm destroyed their home in Road Town, Tortola.
Speaking to the Press Association after she hugged Foreign Secretary Boris Johnson who is visiting the British overseas territories affected by the storm, Mrs Nibbs said the hurricane "ate everything".
Quizzed on what they think about the UK's response in the aftermath of Irma, she said: "Honestly they are trying."
The couple who have been married for 19 years do not know where they will sleep from night to night and Mrs Nibbs said the whole situation has been "very hard".
Describing what it was like while the hurricane ravaged their home, they revealed they were inside when the roof blew off.
Mr Nibbs said: "The last piece of roof to blow off was right there over the kitchen … while the wind was blowing we held the door … when one gust of wind come it lift everything right up."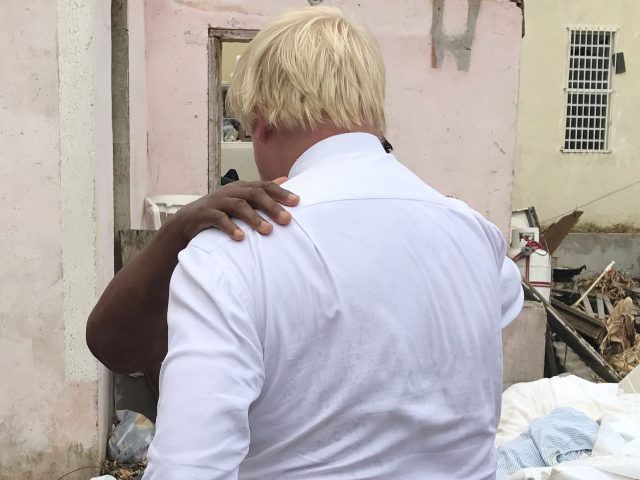 As the wind eased with the passing of the eye of the storm they ran to safety at a neighbour's house to ride out the rest of the hurricane.
Mrs Nibbs said it was "very terrifying", and added that in the days since she sometimes has to sit down and "catch herself".
"We have to give god thanks that we are alive and that we are well," she added.
All that is left of their home is a couple of walls, with little trace of their life before Irma hit now visible. The couple are trying to salvage what belongings and clothing they can.
Mr Nibbs said that in all his life he has "never seen anything like this". His wife added: "This thing had demons that lifted up everything, it even brought two cars into my yard.
"It is a demon."
Asked what they intend to do next, with a sigh Mrs Nibbs simply said: "I don't know my love."